Take it To-Go: 8 Restaurant Takeout Essentials
Take it To-Go: 8 Restaurant Takeout Essentials
The way restaurant patrons experience dining out has changed immensely since coronavirus cases have begun popping up in the U.S. Restaurants that were once packed to the brim with happy diners are now sitting empty, largely in part to shelter-in-place and lockdown orders that have seen them shutter their doors to traditional dine-in customers in the interest of public health. However, many dining rooms have pivoted to offering take-out, delivery, and even cook-at-home grocery kits in order to continue generating revenue during these difficult times. Here are a few of our favorite products for restaurants looking to level up their to-go game:
Banner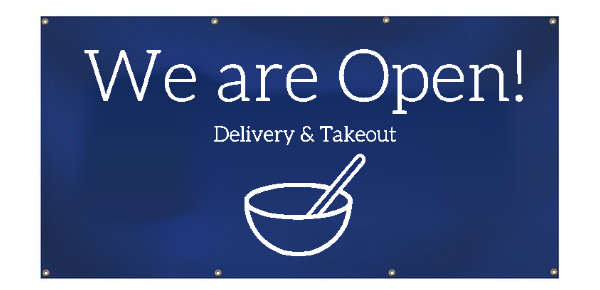 Let everyone know that you're still open for takeout with a custom banner. Potential customers who pass your establishment on the street will be able to quickly tell that you're still available to fill their epicurean needs. Have your website and contact info printed along with your logo and a "We're Open for Business!" message to make ordering a breeze.
Pop-Up Canopy
For restaurants offering curbside order service, a pop-up canopy is a necessity. Protect your team members from the elements and give your patrons a clearly designated pickup area with this custom printed canopy.
Paper Bags
There are plenty of branding opportunities when it comes to delivery and takeout orders. Get your restaurant's logo and contact info printed on a custom paper bag and give your customers an easy way to transport their freshly cooked meals home in style. Additionally, putting everything neatly in a bag with decrease the chances for things to move around and spill in the car – anyone who's ever gotten pasta all over their car seats at a stop sign knows how critical a durable takeout bag is.
Insulated Totes
Speaking of delivery, is there anything more disappointing than receiving cold or lukewarm chicken tenders? Keep the food that you pride your restaurant on at the proper temperature during delivery by using these custom branded insulated totes. Not only will they make transporting orders easier for your delivery people, they'll keep customers happy with hot food on demand.
Menu Magnet
Stick a magnet with your menu and contact info in the bag with your orders to increase repeat business. Your customers will be able to slap these bad boys on their home fridge so when they've looked in the kitchen 15 times in one afternoon and still no food has magically appeared, they'll know who to call to satisfy their cravings.
Cups
Custom logoed plastic cups are the ideal way to transport drinks for delivery and to-go orders. They also make for a perfectly Instagram-able way for your patrons to let everyone know that they're supporting their favorite local spot during this time.
Containers
Soup, pastas, sides, and more – the possibilities are endless for these all-over printed custom food containers. Create a memorable home dining experience for your customers by providing food storage items emblazoned with your design. When they reach for leftovers in the fridge the next day, it'll be easy to tell just whose food they're eating.
Takeout Boxes
Takeout boxes are a true essential for out-of-restaurant dining. You will want your delivery packaging to be secure to hold in all of the goodness you've lovingly prepared, making these takeout boxes the perfect way to box up and transport all of the delicious food your customers will be ordering.
Want to see what other restaurant items we have to offer? Contact us today to learn more!
---