7 Cool Products to Beat the Heat This Summer
7 Cool Products to Beat the Heat This Summer
The sun is beating down, and depending on where you live, you might be able to cook an egg on the sidewalk: summer is officially here! With high temperatures and lots of sun, it's a great time to get outside and enjoy all the traditional summer activities that made your school breaks so much fun as a kid. Between the beach, amusement parks, camping, and more, there are plenty of opportunities to get a little overheated. But you don't have to suffer this summer! Here are seven of our favorite cool promotional products to help you beat the heat:
Cooling Towel
Keep it cool wherever you go with this high-tech towel. Just get it wet (water or sweat both work!) and the fabric instantly begins cooling. With a full-color, all-over imprint, there's plenty of space to show off your brand while you keep your clients safe from overheating this summer.
Personal Mister
When it's hot out, nothing feels better than a nice cool mist of water. With this portable mini mister, you can have a refreshing, cooling mist wherever you go! Have your branding printed on the side to remind your customers that you want them to stay comfy in the heat.
Insulated Bag
There's nothing worse than getting to the beach on a hot day only to realize all the drinks you packed have already warmed up. This promotional insulated bag will save the day by keeping drinks and snacks cold no matter the outside weather!
Windshield Shade
If you've ever gotten in the car on a hot day and singed your hands on the steering wheel, or worse – the metal part of your seat belt, then you definitely need one of these. This collapsible windshield shade includes a convenient carrying case that is perfect for storage when it's folded up, and the reflective coating is sure to keep the inside of your car from burning up even when in the sun for hours.
Hands-Free Personal Fan
You're probably already familiar with the classic handheld fan, but what if we told you that you could take your cooling hands-free this summer? With this neck fan, gone are the days of having to hold a personal fan up to your face. Simply slip this bad boy around your neck and bask in the comfort of a cooling breeze.
Ice Pop Coolie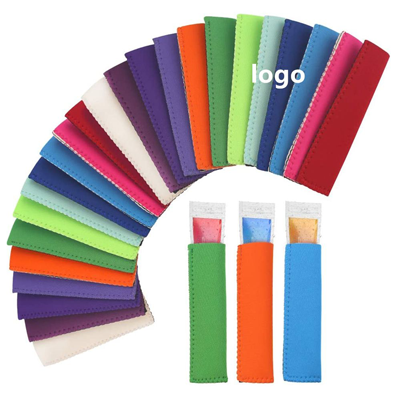 Nothing hits the spot better than an ice-cold ice pop in the middle of the summer, but there are few things worse than being sticky and covered in hot, melted ice pop juice. With a custom branded ice pop coolie, your clients will never suffer the cruel fate of sticky or cold hands again. Eat those ice pops in peace!
Sunscreen and Lip Balm
If you've ever had the misfortune of getting a nasty sunburn, you're acutely aware of how painful (not to mention dangerous) that can be! Stay covered with a convenient and portable sunscreen and lip balm that you can keep clipped to a bag or your pocket with a handy carabiner.
Curious about what other hot summer products we have to offer? Contact us today!
---
Category: Promotional Product Ideas
Tags: Promotional Products, Summer, Cooling, Heat, Sunscreen, Ice Pop Coolie, Windshield Shade, Insulated Bag, Neck Fan, Personal Mister, Cooling Fan